Once Upon a Time, a Long Time Ago…
There was a mother who was was searching for a way to work at home. She had 1 young child and wanted to stay at home with him. Even if she wanted to work outside her home, she didn't have the type of skills that would allow her to make enough money to cover day care costs and have much left over.
She wanted to write, but didn't have much success getting started with that. She actually earned $30 a day doing paste-ups by hand of 30 telephone book ads. It wasn't much, but it was work she could start and stop and it paid for her 3-year-old's nursery school tuition 1/2 day, 3 times a week. She tried not to think about the fact that she was only being paid $1 per ad.
That mother was me.
It would take 5 years and the birth of my daughter before I would start Mothers' Home Business Network.
Believe it or not, the option of working at home was not even considered a possibility by most mothers then. Mothers either chose to stay at home with their children or they decided to work outside their home and leave their children all day.
I had always tried to find ways to earn money at home and decided to make that option more well-known. I formed the idea of Mothers' Home Business Network and sent out a press release to all the newspapers and women's magazines.
Since this was an unusual option, the press was interested. My phone started ringing and everything changed. The Detroit Free Press was the first to write about Mothers' Home Business Network. Before I knew what happened, this mother from Long Island, New York had 40 members from Detroit! That would soon change.
Magazines and newspapers all over the country gave my new organization needed publicity. Because of the creative press releases I continued to mail out, I was offered an opportunity to write a series of 12 articles for Family Circle called Careers At Home. A business magazine, Income Opportunities, asked me to write a monthly column called Your Home Business, which I did for 5 years.  Eventually, I was asked to write a book on working at home and wrote articles for other national magazines such as Woman's Day and American Baby.
This mother who had wanted to be a writer now had articles in national magazines and a national organization to run. I published a newsletter called HomeWorking Mothers for members.
Remember, this was before personal computers were available. I wrote my columns on an electric typewriter and FedExed them in. I kept membership records on index cards and had to take our newsletter to a typesetter before it could be printed. It would take 2 more years until I bought my first computer, a tiny Macintosh with 20 megs of RAM, but it was a life-changing. It would be 10 more years before I went online and in 1997 I launched HomeWorkingMom.com.
Why am I writing about ancient history today? In one word:  Perspective.
I was blessed with the opportunity to work at home and raise my 2 children, but it was a very different experience than the one you can have today. The difference is simple:  The Internet has changed everything.
Whether you are a mom with young children, or a woman who wants to work at home for any reason, you have a world of opportunities under your fingertips. I guess what I am trying to say is that you are so blessed and you should not take this World Wide Web of opportunities for granted.
Yes, you have to be careful. The best way to find legitimate ideas and opportunities is to find a trusted source like HomeWorkingMom.com and explore all of the possibilities presented to you here.
I help moms find ways to work online and I take that responsibility very seriously.
Since I sent out that first press release, I have become a home business consultant, the author of How to Start a Home-Based Business to Become a Work-at-Home Mom (Globe Pequot Press) and too many other books to mention, a freelance writer, an editor, and an online marketer.
Recently, Woman's World Magazine included me as one of America's Ultimate Experts on working at home.
To help me connect directly with you and teach you everything I know, I have just created Mom$Online – a very special and affordable membership experience.
My kids are grown now but I am still tuned into what it is like to manage mothering and work with a young child. I want to share all of the knowledge I have gained with you. That's me below with my precious grandson, Jason.
That's my work-at-home success story and now I would like to help you write yours.
Warmest wishes,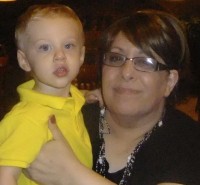 Georganne Fiumara, Founder
Mothers' Home Business Network
HomeWorkingMom.com
Join the conversation on Facebook.com/HomeWorkingMom.
Follow me on Twitter: Twitter.com/HowtoWorkOnline.
email me: Georganne@HomeWorkingMom.com